The Rotary District 5100 Conference is over … it's a wrap. There was lots of celebration and song, including a custom rap called "Rotary Paradise" written by
emcee Stew Martin, Pres-Elect of the Rotary Club of Seaside. The rap was performed by the Rotary Motley Singers, an ad hoc group assembled quickly at the Conference, to be sure they didn't hone it too well.
ROTARY PARADISE (The Rotary rap – an alternative)
[Wanna tell me what this is all about?]
As I go through the motions in the valley Willamette,
I take a look at my life and realize it's bereft,
Cause I've been sellin' and workin' so long that
Even my mama thinks that most a'my values is gone
But I ain't never crossed a bridge that I didn't make
Havin' respect of peers mebbe just a veil of tears,
You better watch how you talkin, and where you walkin
Or you and your homies may get lost in a fog
I really hate to trip, but this here's the rip,
The people need us, our influence 'n experience, fool
We spark a light in the night – it's right
They be blind – we give 'em sight
Bring 'em a"Rotary street light." [1:13, start after 4 meas.]
[Chorus]
We'll spend the rest of our lives
Living in the Rotary Paradise
We give the best in our lives
Bringing them a Rotary chance at life!
[Repeat the Chorus]
[Bridge]
Tell me why are we — the ones who see
That the ones we serve – are in poverty.
[Chorus]
We'll spend the rest of our lives
Living in the Rotary Paradise
We give the best in our lives
Bringing them a Rotary chance at life!
[Repeat the Chorus]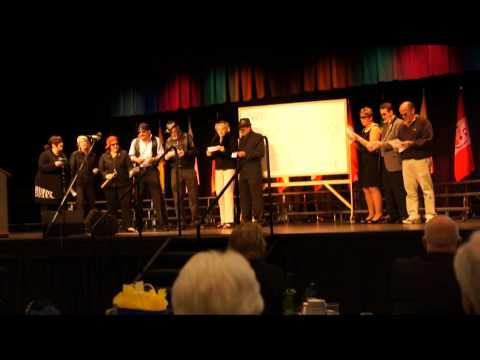 The Rotary Motley Singers (from left to right)
Kari Ann McDonald, Rotaract club at Portland State
Sue Coates, RC Lewis River
Laurie Doering, RC Lewis River
Andy Huck, RC Greater Clark County
Stew Martin, RC Seaside
Kathy Stromvig, RC of SE Portland
Bob Foster, RC Battle Ground
Tammy Haas, RC Lewis River
Vern Haas, RC Battle Ground
Jeff Lines, RC Lewis River